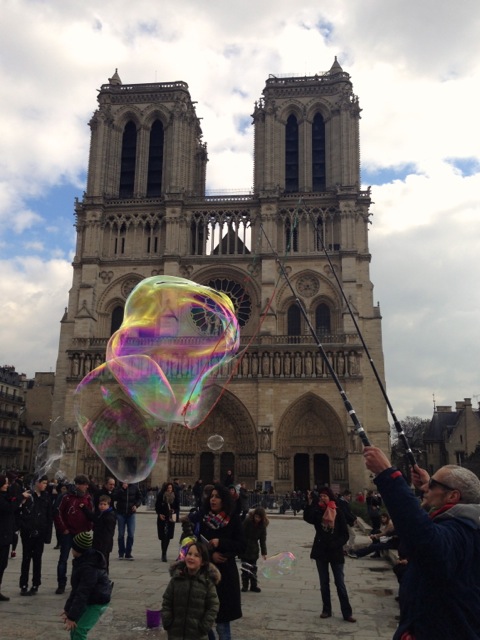 There really is colour and fun everywhere in life. We just need to be open to seeing it.
I visited Notre Dame three times when I was in Paris last week. And I was only there for five days! It definitely shares the position of my favourite spot along with Sacre Coeur, which I visited twice too. Each time I went there, I saw something new.
Go slow. Take a breath. And see.
This particular day was really grey and chilly out, not ideal for being outdoors for too long. But I was in Paris and that doesn't happen everyday, so I bundled up and made the best of each moment. And when it got too cold, I visited a museum or went for a coffee.
Even before I got to the square in front of Notre Dame, I saw lots of big bubbles floating everywhere. They caught the light that was available reflecting a rainbow of colours back to me. It immediately brightened my day. Children were running around after them trying to pop them. Laughter and smiles filled the square.
Looking for the source of the bubbles, I spotted a crowd that had gathered around the rising bubbles. There was a gentleman with two sticks in his hands. He had a rope with a knotted circle attached to the sticks and was dipping it into a bucket of foamy solution. Pulling the string out of the bucket, he gracefully danced the stick through the air to create his bubbles of fun. By sharing something quite simple, he was making a whole lot of people happy. And not only the children!
My inner child was smiling as I took some time to soak up the moment. She was already playing in her happy space exploring the city, as my inner child is a bit of a gypsy, but these bubbles reminded her of the joy and freedom of playing as a child with not a care in the world. This photo makes her and me smile each time we look at it. Those bubbles brought more colour and fun to that moment of my day.
Slow. Breathe. See.
The little girl's face at the bottom of the photo just speaks to me of awe and wonder. It reminded me in that moment, and now again, how important it is to bring my inner child out to play more, to feel that happiness of simply playing like a child and to consciously seek play in everyday life.
What games do you play with your inner child?
This post was inspired by the writing prompt today from my e-course, Writing in the Digital Age by Tammy Strobel of RowdyKittens. If you want to explore your inner child more through writing or photography, Tammy's e-courses are an inspiring place to do that. The group and Tammy have always provided me with a safe space to come out and play in. And I am grateful for that.

with laughter, Delicia x