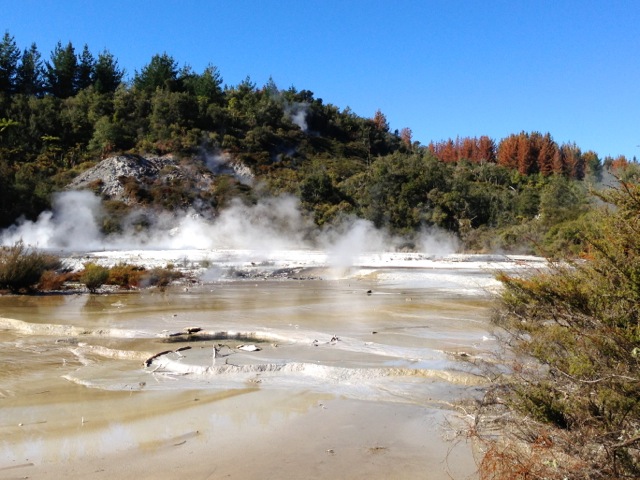 Maori legend says that Ngatoroirangi, a tohunga (priest), guided the Te Arawa waka (canoe) to New Zealand. While exploring the central North Island he climbed Mount Tongariro and nearly froze to death on the summit. He called to his sisters in Hawaiki (said to be the ancestral home of all Maori and where their spirits return to) to send fire to warm him. His sisters heard his cry and sent the fire demons under the earth to warm him. Each time they surfaced, they left a trail of thermal activity in their wake. Geysers, hot pools and volcanoes were created. And so when they reached him, Ngatoroirangi was warmed and saved.
Breathe. Imagine. Warmth.
The word geothermal means heat from the earth. The Taupo Volcanic Zone has one of the greatest concentrations of geothermal activity in the world. The Maori used these hot springs for heating, cooking and for their medicinal properties. Then the Europeans arrived and also discovered the healing properties of thermal springs. Today this area still attracts many who enjoy the thermal zone.
I find that relaxing in warm thermal water has an amazing ability to heal, ground and soothe me. I was blessed to be able to enjoy the thermal or hot waters in New Zealand more than a few times.
Do you find water healing?
with love, Delicia xxx