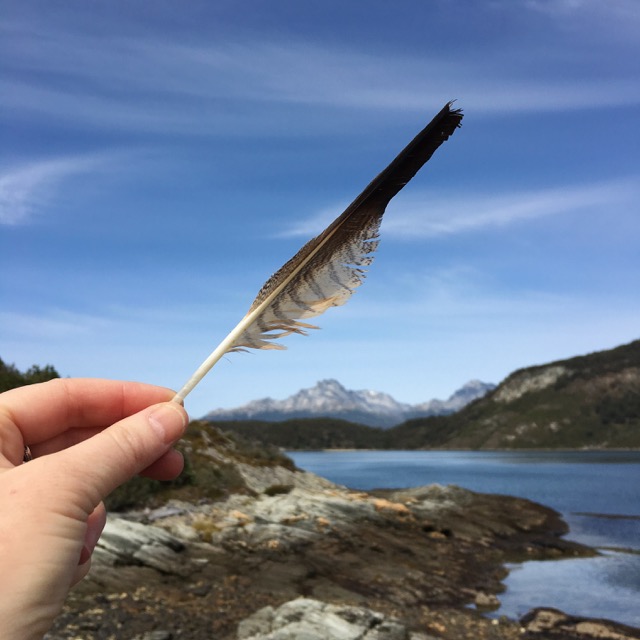 Ushuaia, fin del mundo, principio de todo. Ushuaia, end of the world, beginning of everything.
Welcome to Ushuaia, capital of the Tierra del Fuego (Land of Fire) archipelago, and the southernmost city in Argentina and the world. Located at the top of the Beagle Channel, it is renowned as the jumping off point for trips to Antarctica, South Georgia and The Falklands. This is exactly how I found myself returning to Ushuaia so many years later. A lot of déjà vu for me really, as I rediscovered and explored the city and national park. I was struck all over again by how stunningly beautiful it is and how close one feels to nature here.
Sitting across the bay from the port on a Sunday afternoon, in front of the Aeroclub Ushuaia on a rock, and soaking up the energy of the end of the world, I recorded a meditation to share with you. This is a real life meditation, bringing the practice into everyday life, so you will hear the sounds of things happening around me. The light aircraft taking off from the Aeroclub, the seagulls calling and the gentle breeze will all help you to imagine yourself sitting on the rock next to me. Gift yourself a few minutes today to soak it all up; the mountains, the water and nature.
Breathe in warmth. Feel the grounding. And the end of the earth energy.
Before we jump in, and especially if you are new to this type of experience, here are five simple tips:
Be comfortable.  The more comfortable you are, the less your body distracts you. Any position works.
Take time.  Set aside some uninterrupted time. Gift yourself a few moments of deep relaxation in your day. One minute works as well as thirty minutes.
Follow your breath.  This is an easy way to be present and train the mind to find stillness.
Return to your breath.  If you find yourself distracted, and we all do, simply return to your breath. It is all about the practice and not about being perfect.
Do what works for you.  There is no right or wrong way to meditate. There are hundreds of different ways to meditate. The best way is the way that works for you.
Now find a comfortable spot and let's get started. Take a deep breath in and out. Let's share the end of the earth energy together.
Listen carefully at the end as a young hawk brings us a gift.
Warmth. Grounding. Energy.
Hawks, as spirit animals, bring us the gift of vision and a bird's eye view. I am grateful to hawk for confirming that I was in the right place at the right time. His timing was divine.
What gift does hawk bring to you today? I would love to hear about your experience.
with deep gratitude, Delicia