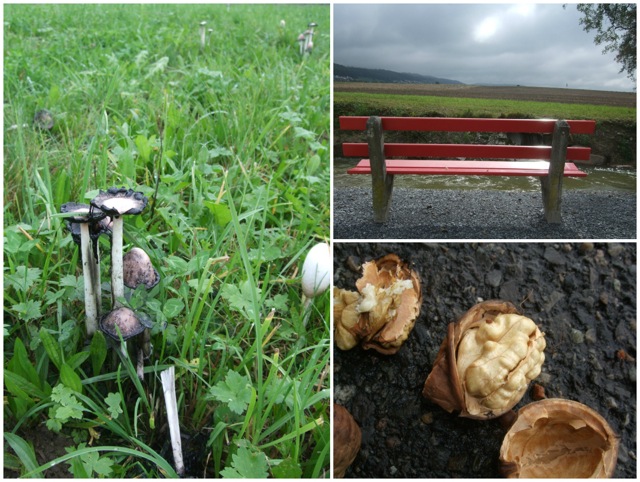 I step outside and follow the little road to the edge of town. I am off to walk and explore, as well as complete my writing assignment for today! My assignment is for a fantastic writing e-course called Writing in the Digital Age with Tammy Strobel from Rowdykittens.com. And it's such a bonus that I can have fun while 'taking a mini-adventure'! Just two small blocks away, I am surrounded by farmlands and nature.
As I turn the corner, I hear a crunch under my hiking boot on the tar road. For a brief second, I close my eyes and think 'oh no, I just broke his house'. Thinking it's a snail; I hesitate, stop and turn around to see what damage I have done.
No snail. As I bend down to investigate, I notice a crushed seed. On closer inspection I realize it's a walnut. Who dropped a walnut on the road? Looking around I notice more walnuts strewn around on the ground. Some are rotting, some are broken but some are cracked open just a little to expose the fresh nut inside.
Yum, it even tastes nice though a little wet or perhaps it's a bit green. Looking up, for the first time, I realize the tree on the corner is a walnut tree. I pass this tree a few times every week on my walks, but I never noticed it was a Walnut tree until today. Big and beautiful!
Heading off the road, I walk along a path between two farmlands. On one side, there is the freshly cut cornfield with dry, yellow corn stalks lying about. The farmer has recently cut them down and will prepare the soil again for the next crop. On the other side, there is uncut green grass with little families of white and brown mushrooms sprouting up haphazardly through it. Such contrast. Just like the contrast of the seasons. It is very evident at the moment, especially in the farmlands as the farmers prepare for the winter that is approaching quickly.
I pass my favourite tree, so magnificent and full of energy, it reminds me that it is still autumn. I see its changing colour and the leaves slowly falling to the ground. Looking along the horizon, my eyes are met with a feast of autumn colours – reds, oranges, yellows and light greens.
I pause to go over to 'my' tree and touch its gnarled and rough bark. This is a special spot for me. The energy that this tree shares with me is magic and healing. I often come here to sit beneath it, touch it and just be with myself.
After a few moments there, I cross the small stream and stop on the tiny bridge to appreciate the flowing water and soft noise it makes. On the other bank, I suddenly notice that the sun has managed to get through the clouds and send some bright rays downwards. It shines on me. As I look back along the path I have just walked, it also shines on the lady and her dog that I passed earlier. Then it is gone as suddenly as it came out. As I head for home, its dull and grey again.
It is such a blessing to have the ever-changing beauty of nature right on my doorstep. Each time I take this walk, I observe something new and different.
Nature is a wonderful teacher and today she has reminded me that the only constant in life is change. We can fight it or embrace it. I choose to embrace it, just like nature does.
Have you slowed down to take a look at the beauty on your doorstep?
simply sharing, Delicia x