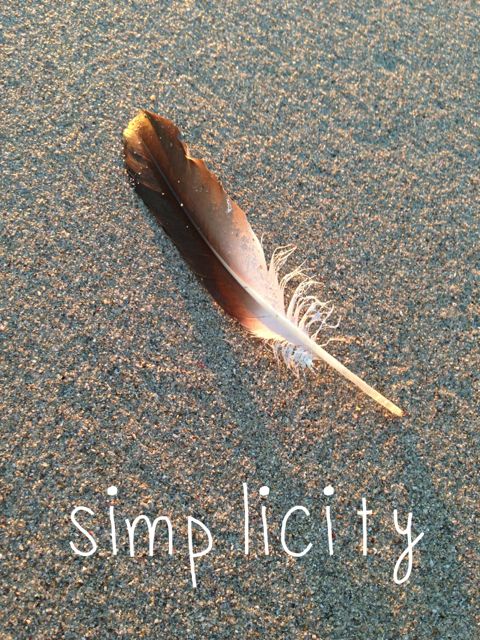 Simplicity is the first of my words for 2013, along with balance and stillness.
I want simplicity to touch my entire life and I want to be mindful daily of my desire to lead a simple life.  To me a simple life means a happy life.
I am slowly decluttering my stuff and also learning to live with less. Less to me means that I can satisfy my basic needs and that I have enough. Indeed I have been blessed to have enough and I am very grateful for that. I have found that having too much stuff takes more time and effort; so less means that my time is freed up to enjoy the things that make me happy. Special things like family and friends, experiences, inspiring my senses and heart connections.
On an emotional and mental level it is about being more present and in the now moments as they are happening. I can be more fully aware of each moment with all its potential and opportunities. And I am freer to take new steps as they arise and contemplate which way to walk.
Spiritually it links beautifully with my other word for this year, stillness. With a simpler life, it's so much easier for me to feel the stillness in everyday life – even just for a brief moment, as day-to-day routines need to go on.
Some practical tips that work for me:
If you buy something new, then donate or throw away one or two items you no longer use.
When shopping, stop and ask yourself if you truly need this now – if you are not convinced, then leave it or find three good reasons why you should buy it.
Dedicate 10 to 30 minutes a day to decluttering – start small, just a drawer, box or bag at a time – someone else may have a good use for something you no longer need.
I am a little overboard about travelling and as the eternal traveller, I would love to be able to fit all my stuff back into my backpack again. It has been a while since I could do that. It is something to work towards, one step at a time.
I am exploring simplicity this year, so that I can spend my time and energy on the things that are important to me and make me happy. It is a slow process and takes courage as well.
I want to live and explore my simplicity.
Do you have any simplicity tips? What works for you? Please share your thoughts with us 🙂
with gratitude, Delicia x