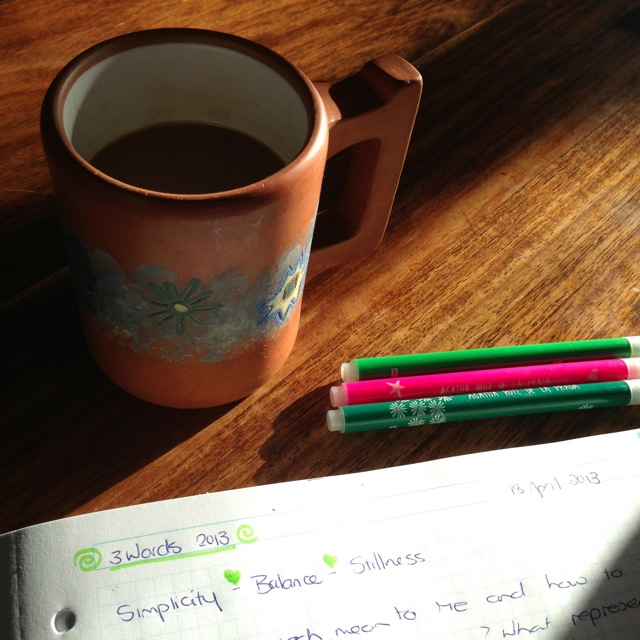 Many moons ago I was inspired by a gorgeous soulsister of mine L. to adopt one of her rituals. At the end of each year, I make the time to focus on which words to take into the new year with me. Just three simple words!
These three words allow me to focus my attention on the areas in my life that I wish to explore and grow more. You need to define and understand (for yourself) what you mean by your chosen words. That is an important part of the process.
This ritual has become a regular practice that we still share every year. Through sharing it, we are accountable not only to ourselves, but also to each other.
As the year draws to a close, we always take time to reflect on our three words again, individually and together. We can see how they have accompanied us, where they had an impact and how we grew ourselves in those areas of our lives. We can also see where we may wish to learn more. There is no right or wrong, it's just about reflection, intention, focus and understanding yourself better.
During the year, it's great to remind yourself of your words and bring your attention and focus back to them. I have found little ways to integrate them into my daily life – a note to myself, a reminder on my phone, a message in my journal. And by making my words known and part of my life, I am reminded in many small ways to be more conscious of them during the year.
I want to share my words that I chose at the beginning of this year for 2013 with you all now as you walk with me.
Simplicity. Balance. Stillness.
This morning I sat down with my journal to contemplate how these words are part of my life in the present moment. As this is the only moment I have, the now, I wanted to reflect on my words today. It's a wonderful way to bring myself into my now moment, while also thinking about how I wish to walk through the rest of this year. Time goes by so quickly that it's a lovely feeling to be able to slow down and reflect a little.
I want to practice simplicity, feel balance and explore stillness more.
Of course, there is a lot of depth to each of these words and I may share a little more about them here sometime in the future.
For now, and in particular today, I just gently wish to remind myself and bring my focus back to my intentions for 2013. And perhaps inspire you to reflect on your intentions for 2013 too.
Simplicity. Balance. Stillness.
What intentions did you set for 2013? Do you share your intentions with anyone?
simply sharing, Delicia x