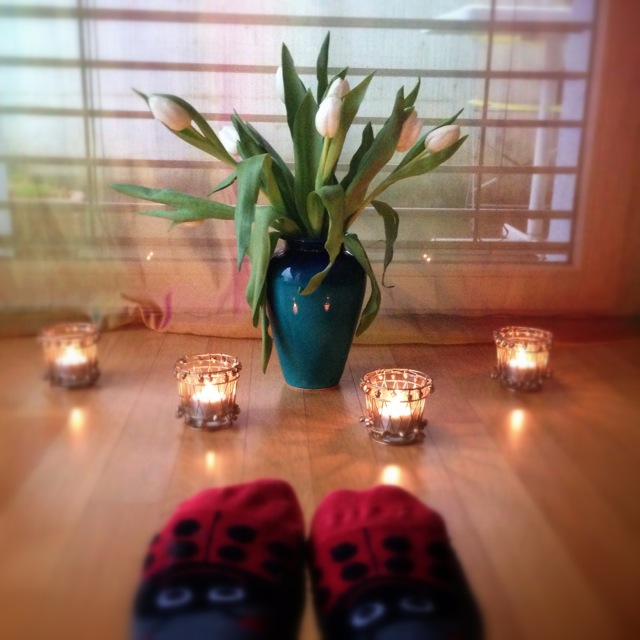 My senses have been inspired by these simple self-love treats, in honour of February and St Valentine's Day:
sight : beautiful white tulips I bought for myself to brighten up a dull 'kissing-the-rain' type of day. My soulsister C. always loved fresh flowers in the house, while my other soulsister C. often reminds me to treat myself with fresh flowers. So I did, ladies, thank you.
sound : the beautiful voice of Andy Mac of MacStanley singing An awareness of you. They are one of my favourite South African groups and you can hear some of their music here.
taste :  the texture (and taste) of my new found delight, chia seeds. Nutritious and delicious, plus 10 reasons to add chia seeds to your diet. I want to put in the good stuff, don't you?
smell : burning fragrant candles and smudging with a POD popsicle to clear the air for new beginnings.
touch : putting my hand on the bark of 'my' tree, leaning my back up against her and feeling her. She is a grandmother tree and she brings lots of healing energy to everyone who crosses her path.
energy : getting to know my 'new' Goddesses of the New Light cards, that I discovered in a box left to me by my soulsister C. They are really gorgeous with powerful messages.
last words : Despite all these little self-love treats, the key for me is to love my self just as I am and for all of who I am, the light, the dark and the shadows. And I hope that you love yourself just as you are, a beautiful being of light! I like this gentle reminder from Louise L. Hay – Love is the great miracle cure. Loving ourselves works miracles in our lives.
Wishing you a wonderful Valentine's Day full of self-love!
And then spread that love to those around you!
What self-love have you given yourself this week?
with love, Delicia