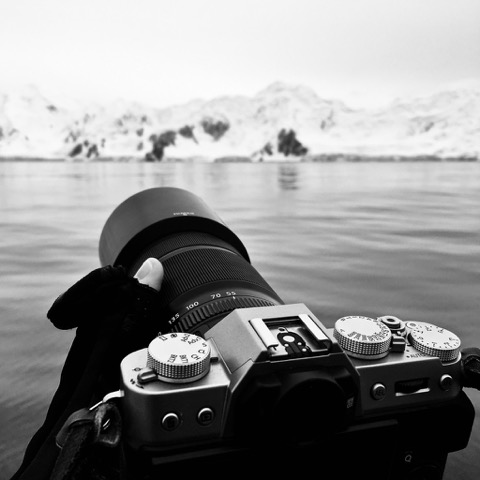 I sure didn't want to ruin the experience by freezing. This is the gear that made all the difference to me on my Antarctic trip.
I got awesome advice from my soulsister E., who has visited Antarctica more than once, and after my own extensive online research, plus a lot of time wondering if I would be warm and dry enough, I was definitely ready.
If you have been here for a while, then you know that I much prefer to travel lightly, so this was one of my key requirements in addition to warmth and dryness!
Layers always work best for me. To paint a picture and give you a realistic idea, one day saw me wearing almost all I took along. I wore seven layers on top (Icebreaker vest, thermal top, t-shirt and two long-sleeve tops plus my down jacket and a hired thick jacket = 7 layers) and three on the bottom (Icebreaker thermals, Fjallraven G-1000 waxed hiking pants and the pair of hired rain pants) plus two pairs of woollen socks! Hat, gloves and scarf go without saying. The hand warmers were on standby.
I love Courtney's Project 333 since first trying it when I travelled to New Zealand and discovered that 33 items are more than enough for me. I stick to this as a lifestyle choice now. It makes life simpler and travelling more fun.
This was also to be my last trip with my beloved travelling companion, my 'big' backpack. She gets some well-deserved rest after visiting all 7 continents together. Farewell my friend, you have been the best travel partner ever.
Here are my must-haves and top tips for Antarctica:
Vallerret Photography Gloves (with merino liners) was an amazing find. Their flip-open thumb and index finger feature rocks! And makes photography in cold weather an absolute breeze. No more frozen fingers for me. The team at Vallerret are super helpful.
Icebreaker merino gear for layering, warmth, multiple uses, no odour, quick to wash and dry. I added a pair of Icebreaker thermals for this trip. A must for the icy continent! I was introduced to Icebreaker gear whilst travelling around New Zealand with my soulsister E. I have never looked back.
Smartwool woollen hiking socks (thank you soulsister E.)
Various companies hire out heavyweight, Goretex jackets, trousers and other gear in Ushuaia. Hiring means not having to buy more stuff for once-only use.
Oceanwide Expeditions provided Muck Boots to keep our feet dry and warm on those wet landings. They really worked!
Mandatory for all trips to Antarctica is medical insurance cover, since evacuation could be a costly affair, if at all possible. Some companies include it as part of your trip cost or you can buy it yourself online as quickly as 1-2-3 at World Nomads Insurance.
Sea to Summit Dry Sack to keep my gear safe. Absolute essential, don't skip this one.
Handwarmers to pop into socks or gloves. Star idea (thanks again soulsister E.).
Seasickness meds and ginger lozenges, although I am happy to report I never needed them.
FujiFilm zoom lens for your special shots and lifetime memories.
Extra battery power and memory cards to make sure you don't miss anything on this once-in-a-lifetime trip.
A lovely touch was the pretty keepsake journal in the cabin from Oceanwide Expeditions to jot down my memories.
On reflection after, I would have liked a rain sleeve for my camera, a daypack that seals like a dry bag for extra peace of mind and perhaps a tripod. Although if I did it all over again, yes I would go in a heartbeat, I would still probably not carry a tripod. Travelling light means much more to me. Besides, there is always some creative way to stabilize your camera.
I hope these tips save you precious time as you plan your own exciting adventure.
Questions? Ask away. I am happy to share whatever I can about my experiences. Information from someone who has already been there is always invaluable.
For your reading pleasure and in case you missed my posts about my big dream trip:
PhotoWalks : Antarctica 1 / Antarctica 2 / South Georgia 1 / South Georgia 2 / The Falklands / blue reflections in Ushuaia
And to give you a taste of the energy at the end of the earth, here's a free meditation I recorded especially for you in Ushuaia.
simply sharing, Delicia
Please note: I am not sponsored by any of these companies and only recommend gear that I absolutely love and use myself. I wouldn't recommend anything here, that I wouldn't recommend to my sister. Thank you for reading!